Just a couple of week ago I got word that I had been selected as the 2015 Kentucky Guernsey Princess. What exactly is that??
For those of you that may not be familiar with the whole idea of showing cows, Guernseys are the breed of dairy cows I show... but why would a cow breed need a princess? The Queen and Princess program is another way to promote the breeders of your area and spread knowledge of your breed to others. My "sister queen", Haley Fisher, will travel with me to different shows, sales and hopefully different schools to represent Kentucky Guernsey Breeders.
My first experience as princess was at the Kentucky National Show and Sale in Louisville, Kentucky on April 10. I got to meet the National Guernsey Queen, Robin Kime, and hand out awards to the exhibitors of the show.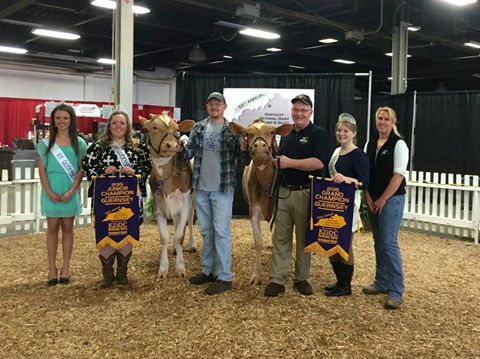 Stephen Terhune and Andy Ashton were the breeders of Lot 21, your Junior Champion and highest seller, along with Lot 33 for Grand Champion. (Pictured L-R Me, KY Queen Haley Fisher, Andy Ashton, Stephen Terhune, National Queen Robin Kime. Photo by AGA.)
I hope to keep you updated on my travels and experiences as princess this year. Almost every state has this opportunity available for those with a passion for the dairy cow. Contacting your local FFA Advisor or 4H Extension Agent would be a great way to find out more information.